NP Chiropractic is a local practice, serving residents in Kings Langley and surrounding suburbs. The principal care provider, Nemanja Petrovic, is a registered Chiropractor with a Bachelor of Medical Sciences, Bachelor of Chiropractic Science and Master of Chiropractic Degree, whilst continuing to teach Neuroanatomy at Macquarie University.
At NP Chiropractic, we believe in open communication and work closely with each of our patients to identify their pain and problems, so we can help them recover and achieve their goals successfully.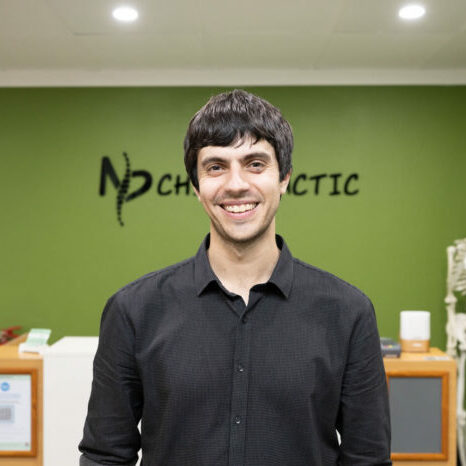 Nemanja Petrovic
Principal Chiropractor
Hi, I'm Nemanja Petrovic.
Helping patients recover from pain, discomfort and injuries is my goal as a Chiropractor. Seeing people with debilitating conditions recover and helping to alleviate their pain is extremely rewarding.
I've always enjoyed maths and sciences, with a particular interest in how the human body works, which led me to study a Bachelor of Medical Sciences at Macquarie University in 2011. Whilst finishing my degree, I spent a year focusing on anatomy. Having been taught by chiropractors, I developed a lot of respect for the skill and knowledge that they had about the human body, which motivated me to pursue a Chiropractic Degree in 2015. I decided that I wanted to become a chiropractor because of how it uses natural, manual techniques as an effective way to treat pain and improve quality of life while also allowing patients to open up about their health concerns.
After completing work as a Chiropractor, I opened my own chiropractic practice in 2020 in Kings Langley. From first-hand experience, I have seen that patients who follow the recovery plan (including exercises between consults) diligently tend to enjoy a more successful recovery rate and are more satisfied with their overall health.
Our Approach to Helping Our Patients
We cover workplace injuries, sports injuries, long-term chronic pain, niggling joints, motor injuries and more. Here's how we will work with you:
We Look at Your Personal Situation and Needs
We try to understand your daily lifestyle, nutrition habits, mobility restrictions, and specific pain areas in more detail, so we can tailor your treatment.
We Prepare a Structured, Multi-Modal Treatment Plan
Our detailed approach allows us to structure your treatment to your body's needs. It is not a one size fits all but a targeted, multi-modal approach to achieve your desired results.
Professional Advice to Minimise Toll on Your Body
Apart from your treatment plan, we can also provide mobility, activity and nutrition advice to help minimise the toll on your body, improve fitness and enhance mobility over time.
We Are Completely Transparent and Supportive
We communicate everything clearly from the start and will explain your treatment in great detail, supporting you in your journey to regaining full strength and mobility.